NEW WEB TOOL COMPARES CA HOSPITALS — HEALTH INSURERS PUSH BACK
In what industry, other than health care, are consumers expected to make life-altering decisions about who to hire (for the most important job — their health) without the slightest idea what their services will cost?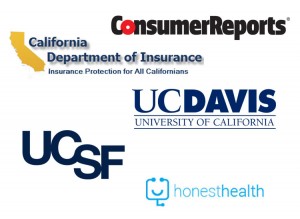 A new website clears some of the fog surrounding health care value in California.  A tool on the site allows consumers to compare California hospitals and health care providers on both cost and quality. But health insurers may be making a play to render it useless.
The $3.9 million web tool was created through a partnership between the California Department of Insurance, UC San Francisco, Consumers Union (the publisher of Consumer Reports) and others.  It allows comparison of quality scores of health care providers with the amount they charge for their services.
Visit the website by clicking the pic above, or going to www.cahealthcarecompare.org.
This information, particularly the quality scores, is sorely needed by California consumers and is an excellent step forward.  Where the project falls flat for many consumers, however, is that it does not allow consumers to compare the net cost charged to them between different health insurance plans.  Due in part to the Affordable Care Act, a lot of us are insured, and that number is growing. According to the LA Times, health insurance companies have worked to block the inclusion of their rates in a comparable tool.  Instead, we are left with statewide averages, which can mask wide variations between insurance plans.
So, for many of us, the comparison is incomplete.  We can discover the rated quality of a provider, and the average price of the service… but not actual cost to ourselves or our insurer, or what it would be under a different plan. (Our insurer's cost becomes very important in liability claims, because they demand their portion back!).  Detailed cost estimates from insurers can be found by clicking a button on the new website.  But only health plan members with an active policy can access that information — ensuring that no cost comparison can be made before buying a policy.
We applaud the new "CA Health Care Compare" website as an important first step in health care value transparency.  And we urge the Department of Insurance, Consumers Union and California consumers to keep the heat on insurers to pull back their curtain on pricing, so that the site might reach its full potential.